06 MAY 2020
Now, more than ever, in this time of market uncertainty our sustainability discipline serves as our True North. It isn't just part of what we do, it is the backbone of everything we do. As the global pandemic and economic impact unfolds, we are doubling down to support our current portfolio companies, and serving as vocal advocates for sustainability as the dominant organising construct we will need as we emerge from this crisis.


This report looks back at 2019, which we think was a year when sustainability research and environmental, social and governance (ESG) analysis were becoming key market drivers in investing. Asset owners and managers across the board were making commitments to initiatives like the Sustainable Development Goals. We know there will be headwinds for this progress in 2020, but equally perhaps, some tailwinds. We are excited to further demonstrate that the Sustainable Solutions Fund III can play an important role in accelerating the transition to a sustainable economy.


As our Chairman, former Vice President Al Gore, has said, "We believe we are in the early stages of a technology driven Sustainability Revolution – one that will have the magnitude of the industrial revolution and the speed of the digital revolution."
INTRODUCTION
This is a summary of the first Sustainability Report for the Sustainable Solutions Fund III, which we closed in 2019 with just over $1 billion of committed capital, the largest of our Growth Equity funds yet.
We are reporting on a full year of outcomes from the five companies we held in the portfolio as at 31 December 2019.
With this fund we have committed to a measurement o outcomes (i.e., the effects of outputs on an issue we aim to address), as opposed to outputs themselves (i.e., what a company's activity produces).
IMPACT IN GROWTH EQUITY
We are taking a rigorous approach to aligning clear metrics to each impact area, as opposed to looking for a unique indicator that summarises all.
IMPACT IN OUR PROCESS
Our process and team-based approach are key to the success of our fund, both in terms of impact and financial returns. There is no separate ESG or impact measurement team at Generation. We are all responsible for the alignment of our investments with a sustainable world view.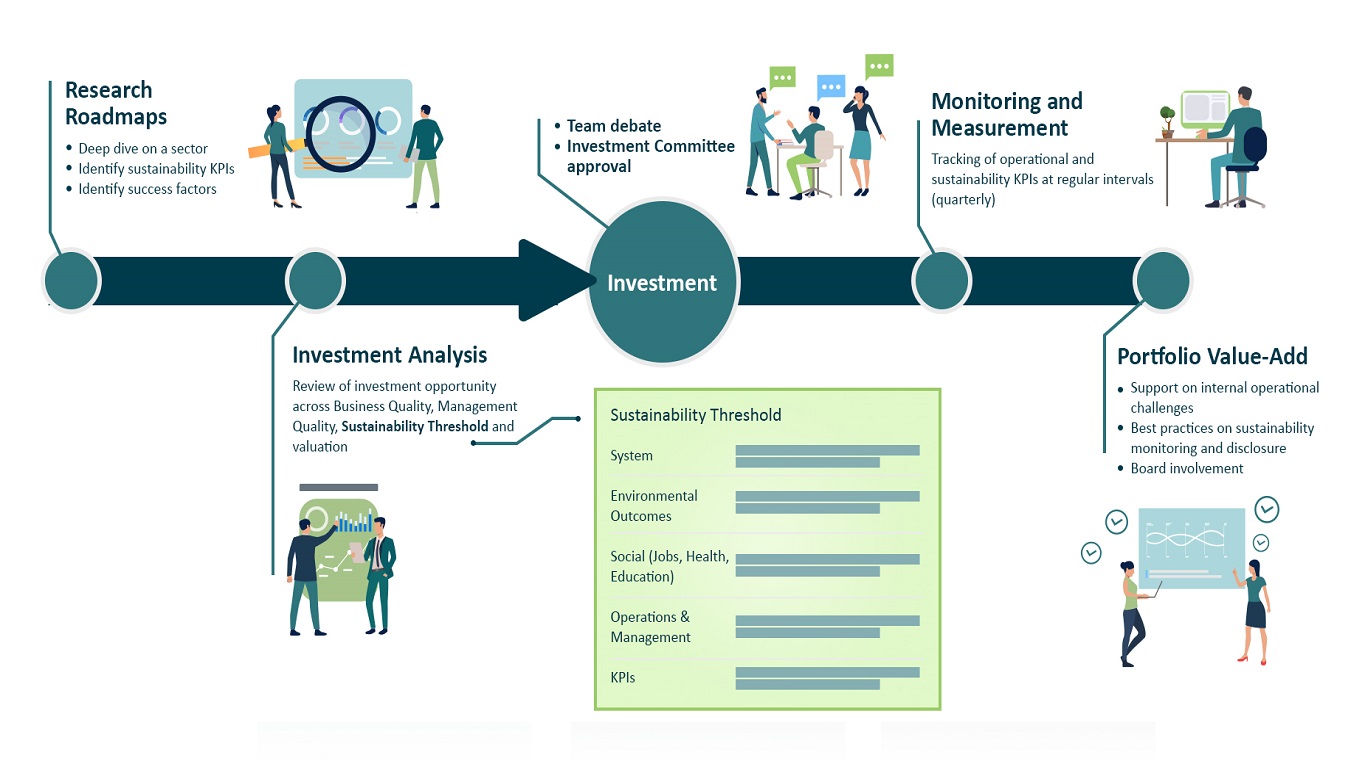 SNAPSHOT OF OUTCOMES
We are proud to be able to report measurable outcomes for most of our companies (and outputs in a minority of cases) across the three areas of impact that we set out to address.
Planetary Health outcomes are calculated via a Lifecycle Assessment (LCA) and they are the most straightforward to quantify;
For Financial Inclusion, we found customer surveys to be a useful tool to effectively quantify outcomes (reliability is subject to amount and quality of data collected);
People Health outcomes are the hardest to estimate, requiring long history and high volumes of data for academic research to prove causality. We have therefore limited our reporting to outputs in this case.
As our companies scale, we expect outcomes to continue to grow in tandem.

PLANETARY HEALTH
CASE STUDY I: CONVOY
Convoy is a digital freight network that connects shippers to carriers to move hundreds of thousands of truckloads, saving money for shippers, increasing earnings and reducing hassle for carriers, and reducing carbon waste for the planet. Convoy leverages technology, advanced analytics and an automated centralised decision-making platform to solve problems of inefficiency and wastage in the $800 billion trucking industry.
IMPACT
CLIMATE CHANGE MITIGATION:
Convoy makes trucking more efficient, leading to fuel savings and CO2 emissions reduction.
Truck freight accounts for 7% of all US greenhouse gas (GHG) emissions, (i.e., 436.5 million tons CO2e). Of this, 49% are booked as full truckload, of which ~30-35% are empty miles, leading to 72m tons CO2e in avoidable emissions from this segment alone1.
1. Source: US EPA "Fast Facts: U.S. Transportation Sector GHG Emissions" 2019, Convoy data and estimates, Environmental Capital Group analysis. Data refers to truck freight within the US only, it does not include international transport or rail and shipping freight.
FINANCIAL INCLUSION
CASE STUDY II: ANDELA
Andela builds distributed engineering teams to help global companies overcome technical talent shortages. Andela hires and trains software engineers in Nigeria, Kenya, Uganda and Rwanda, with a growing presence in Egypt and Ghana, and has over 1,200 developers today.
IMPACT
ACCESS TO OPPORTUNITIES & EARNINGS POTENTIAL:

Andela enables the global labour pool to find high-quality software engineering opportunities with technology companies across the globe. Operating across Africa, Andela conducts ongoing training, greatly enhancing the skills and earning potential of its engineers. At the same time, by promoting remote work, it solves labour market inefficiencies created by an ever-worsening skills gap, facilitating companies' ability to source high calibre engineering talent which would otherwise pose constraints on growth and productivity. Moreover, the company provides high-quality coding education to the continent through the Andela Learning Community (ALC), which has trained over 35,000 people in 2019.
FINANCIAL INCLUSION
CASE STUDY III: GUSTO
Gusto is a software platform designed to automate and simplify payroll, HR and benefits for micro, small and medium sized business (SMBs). Gusto has created an easy-to-adopt, self service software platform that can reliably address this segment.
IMPACT
EQUALITY OF ACCESS & EFFICIENCY:
Gusto makes payroll, HR and benefits provision easier and more accessible for small businesses. Serving about 100,000 small businesses across the US in 2019, Gusto enables small business owners to be more productive and to increase benefits access to their employees.
Today across America the benefits gap continues to rise and real wages stagnate for many workers. This is particularly poignant for small businesses, which employ over half of America's private sector workforce. While most providers have focused on larger companies, Gusto's SaaS-based solution targets smaller businesses, many of which are otherwise doing payroll by traditional time-consuming and error prone methods. This improves efficiency, compliance and access to benefits.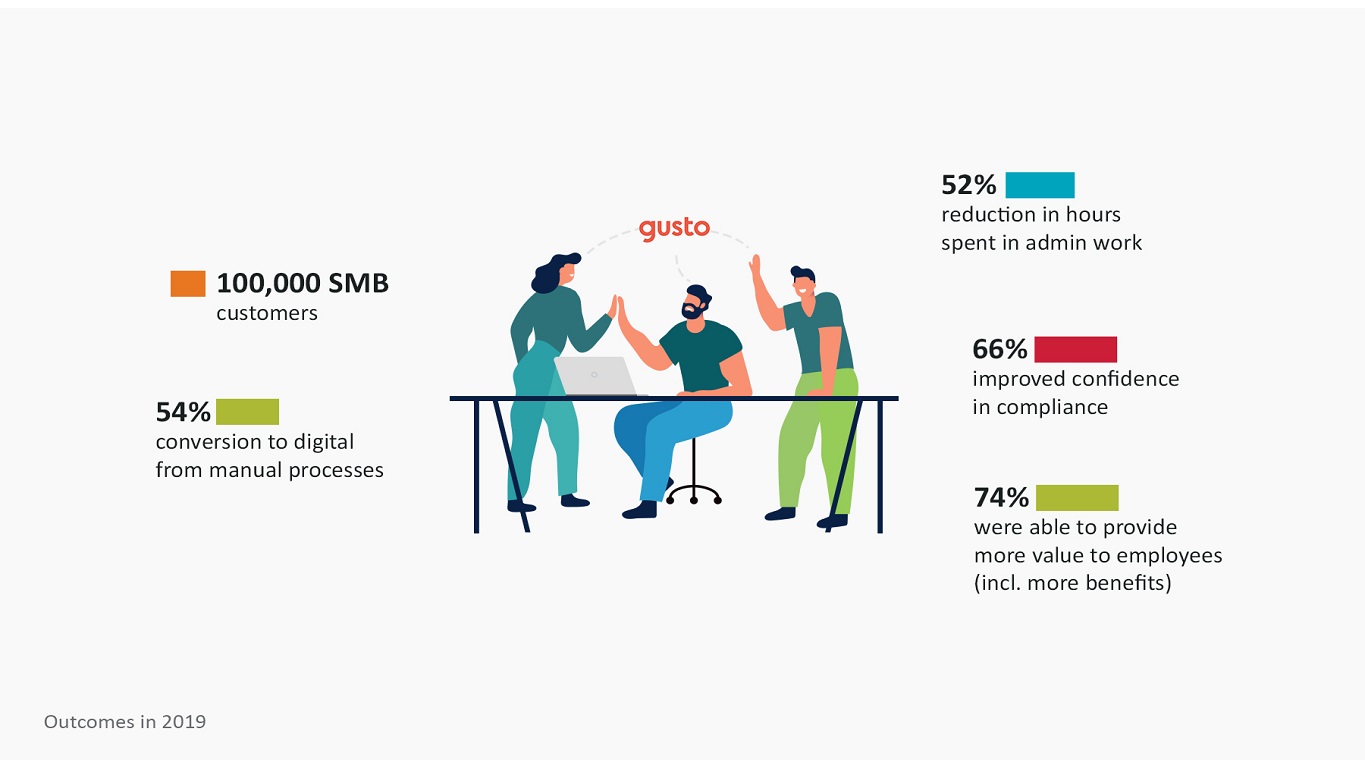 FINANCIAL INCLUSION
CASE STUDY IV: REMITLY
Remitly is a digital money transfer company that focuses on enabling fast and low-cost remittances from developed to developing countries. In 2019 the company reached $7 billion in transfers from 16 sending countries to 47 receiving countries across Asia, Latin America, Europe and Africa, and has nearly 200,000 collection points.
IMPACT
EQUALITY OF ACCESS & EFFICIENCY:
Remitly makes remittances cheaper, faster and more transparent with its digital platform for migrant workers globally to support living costs for their families back home. Globally, there are over 250 million migrant workers who send over $680 billion in remittances; Remitly has now served over 2 million customers. The World Bank lists remittances as a core solution to alleviating poverty and reducing income inequality.
PEOPLE HEALTH
CASE STUDY V: SOPHIA GENETICS
SOPHiA GENETICS is a health tech company democratising data-driven medicine to improve health outcomes and health economics worldwide. By unlocking the power of new-generation health data for cancer and rare diseases management, the SOPHiA universal platform allows clinical researchers to act with precision and confidence.
IMPACT
IMPROVED HEALTH OUTCOMES:

SOPHiA GENETICS improves treatment options for patients by enabling decentralised genomic testing in labs across the world. SOPHiA's next-generation sequencing analytics platform can better inform diagnosis of disease, which is linked to improved treatment accuracy – for example, in cancer patients. By empowering hospital and lab services to do testing in-house, SOPHiA enables quicker testing turnaround times for acute cases.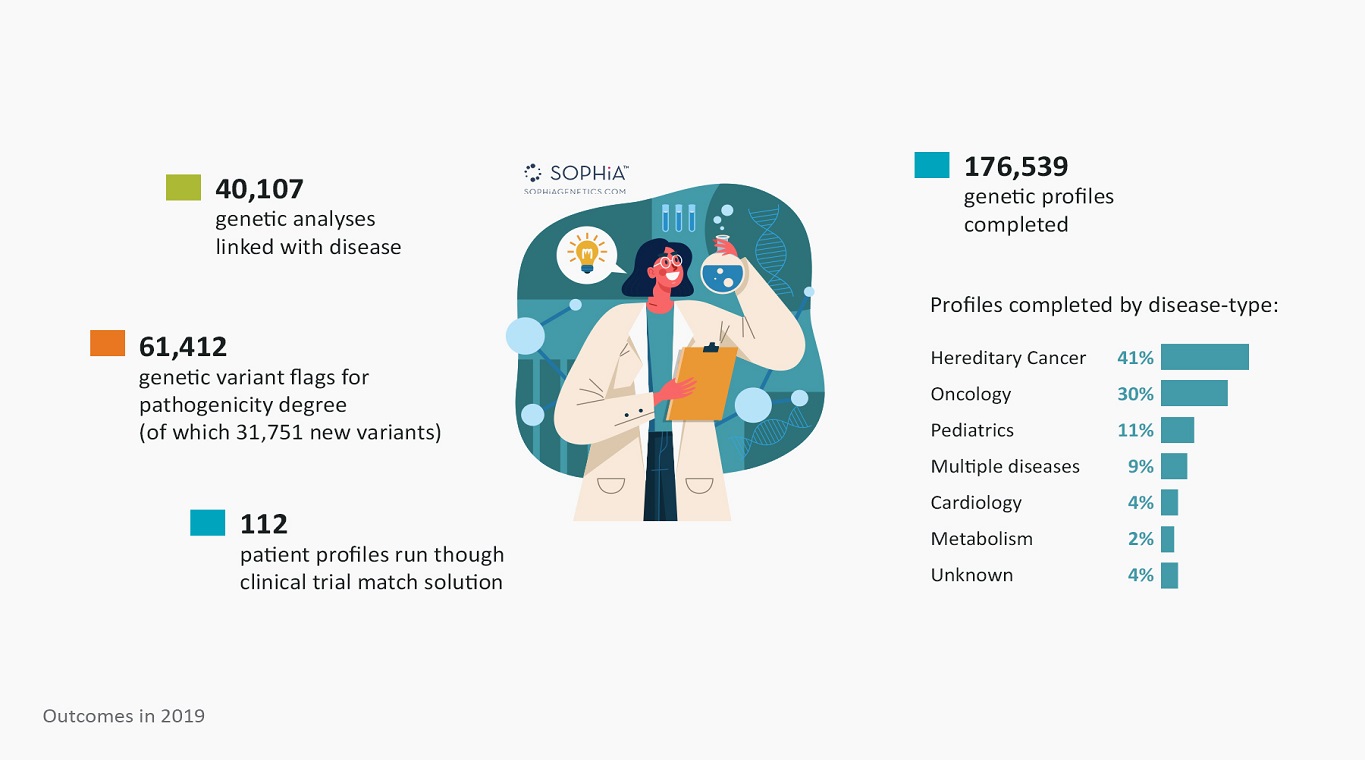 Conclusion
This was our first year of building the portfolio in the Sustainable Solutions Fund III. As we look back, we are pleased to see all three of our impact areas represented – Planetary Health, People Health and Financial Inclusion.
This is a result of the bottom-up research completed through our roadmap process. Indeed, in 2019 the Growth Equity team completed 17 roadmaps across a broad range of topics such as digital technology in energy, global remittances, environmental intelligence, digitising chronic care and circular economy, to name a few. Roadmaps are our primary tool to identify investment opportunities, gain a differentiated perspective on these sectors and target our sourcing efforts. The work we have done at the roadmap level has informed our Sustainability Threshold and key metrics to best understand "WHAT" a company does in terms of the outcomes (and ultimately, impact) of selling more of its products or services.
The ecosystem for impact management and reporting continues to evolve. We remain very active participants and supporters of a number of initiatives, with the hope that increased collaboration across the industry brings improved transparency and comprehensibility to results.
In the full report to our investors, we have included an ESG disclosure section, aligned with the Sustainable Accounting Standards Board (SASB), to assess "HOW" our companies operate. SASB's sector-based approach focuses on materiality and financial impact. Its broad mandate and the wide uptake amongst public companies make it an aspirational standard for our private companies. Moreover, we have also aligned our reporting with the Impact Management Project, the Task Force for Climate-related Financial Disclosure and the UN Sustainable Development Goals.
Fundamentally, our approach is not reliant on any one external framework but instead on our own process and front-line experience as dedicated sustainable investors over the past 16 years. As we hope this report summary brings to light, sustainability research is integrated throughout our investment process and informs every dollar of capital deployed.
We look forward to continue engaging with our companies, our investors and the broader finance community to continue refining this work to best illustrate the fund's impact over time.