In brief
Listed companies are responsible for 40% of climate-warming emissions
This underscores the critical role that investors in listed equities must play in climate action, including through engagement and capital allocation choices
Cutting emissions along the value chain must be a priority for both companies and investors
As we approach COP26, mobilising action across the listed company landscape will play a crucial role in closing the ambition gap to 2030
Introduction
Listed companies are hiding in plain sight when it comes to the climate crisis. Far from being minor players, our analysis shows they are responsible for around 40% of all climate-warming emissions.
This is the first estimate of the overall extent of listed company greenhouse gas (GHG) emissions. Our calculation takes into account Scope 1, 2 and some types of Scope 3 emissions, while addressing double-counting. We believe it is a credible estimate. If anything, we expect further analysis to reveal that listed companies are responsible for an even greater share.
We have included a brief explainer on scopes later in this piece. In summary, 'Scope 1' covers direct emissions by a company – for instance, using fuels to heat a building or in an industrial process. 'Scope 2' is mostly purchases of electricity. 'Scope 3' covers all other indirect emissions: such as the energy used by a supplier, the use of equipment by customers or the transportation of goods by a third party.
The results highlight the critical role of investors in listed equities in climate action, via the impact of our capital allocation choices and our collective opportunities for engagement. Listed companies provide important entry points for accountability that are not available where companies are privately owned or under state ownership. The small number of investment managers appearing regularly in the top 10 shareholders of listed companies have an immediate responsibility to act.
Given their outsized resources and focus on developed markets, listed companies will need to deliver the lion's share of private sector emissions reductions and get the world on track to halve emissions by 2030. The ambition for public companies as a whole should be net zero by 2040 at the latest, driven first and foremost by decarbonisation.1 The good news is listed companies have the capacity to be early movers. They are well-resourced and effective at managing change in short periods of time.
As we approach the crucial COP26 climate summit, our findings should give further impetus to investor and company action on climate change. They are also of relevance to regulators, many of which are currently developing finance sector frameworks to align with national net zero commitments.
We begin by setting out four key findings. We then set out the methodology and some of the key assumptions. We conclude by highlighting the implications for COP26 and beyond.
Key findings
1. Listed companies are responsible for 40% of global GHG emissions
Our estimate ranges from 22.0 to 23.1 GtCO2e per year. At the higher bound, this represents over 40% (40.2%) of global GHG emissions at 57.4 GtCO2e.2 At the lower bound, it is 38.3%.
For Scope 1, we use CDP data and remove non-listed companies.3 Our analysis then builds on this to incorporate additional Scope 2 and some Scope 3 emissions. We display the distribution of the emissions by major category in the chart below. The chart shows our higher-bound estimates (see Appendix 2 for details).
Figure 1: Listed Company GHG emissions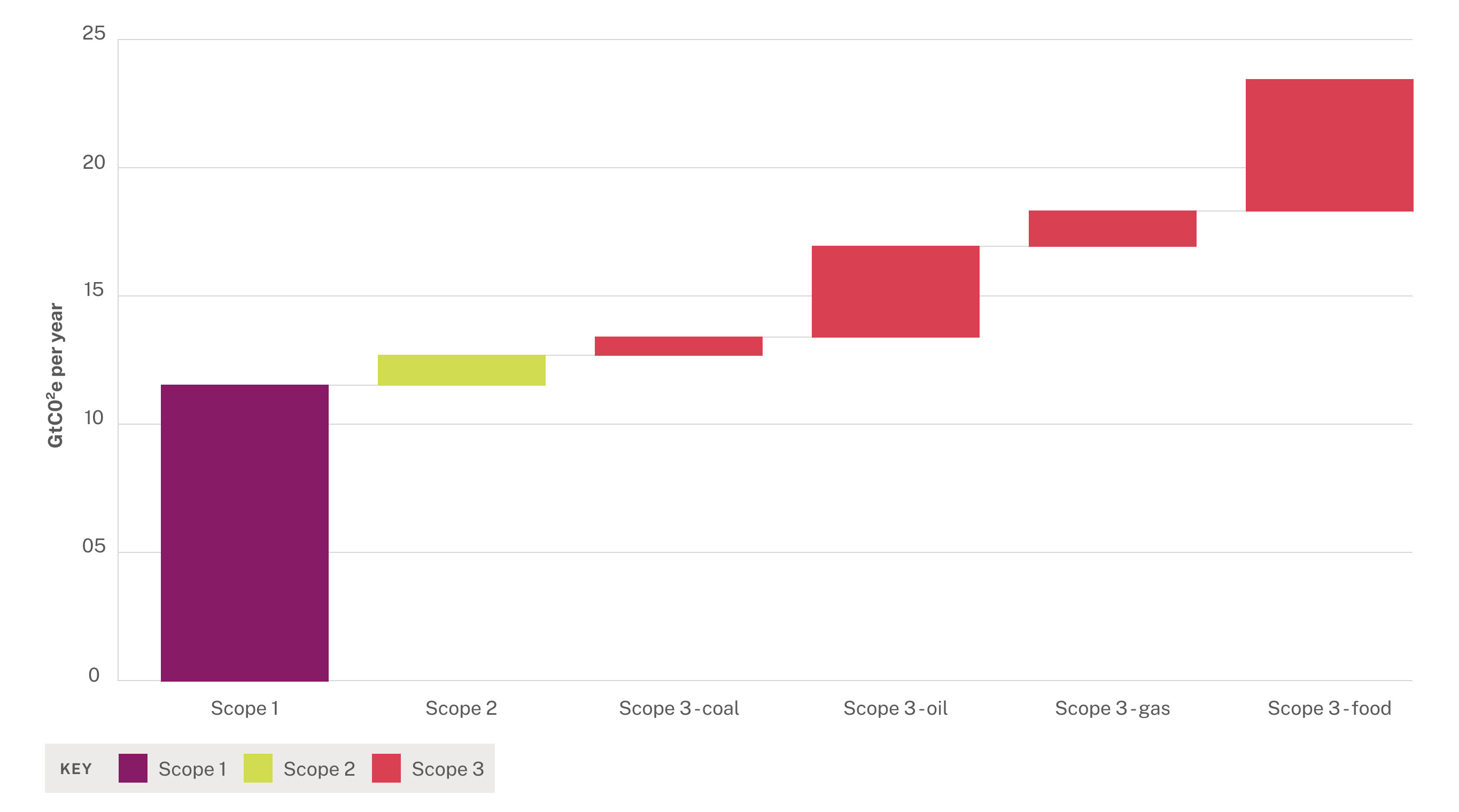 Our approach
We combine several top down and bottom up calculations to give a clearer picture of listed company GHG emissions for the first time.
The multiple datasets used in the assessment are listed in Appendix 1, with links to sources. Among the most important are CDP's reported and modelled dataset (2020 version) and sectoral data from the International Energy Agency and EDGAR-FOOD.
What's new about our analysis of listed company GHG emissions is that it looks beyond the company boundary. The authoritative standard for emissions accounting, the 'GHG Protocol' has three scopes.
'Scope 1' are emissions that a company emits directly. For instance, this includes any fossil fuels burned for heating at company offices, or the vehicles that it directly owns or controls. It also includes emissions from coal and gas power plants.
'Scope 2' covers purchases of electricity, steam, heat, and cooling. I.e. emissions treated as Scope 1 for a power plant are seen as Scope 2 by a company consuming electricity.
'Scope 3' then covers all other emissions a company may be accountable for. These can be 'upstream' – relating to emissions from their suppliers, or their supplier's suppliers. Or they can be 'downstream' – relating to the use of equipment by customers, for instance. Transport of goods also often appears in Scope 3. In total, there are fifteen categories of Scope 3 emissions, as you can see in the graphic below.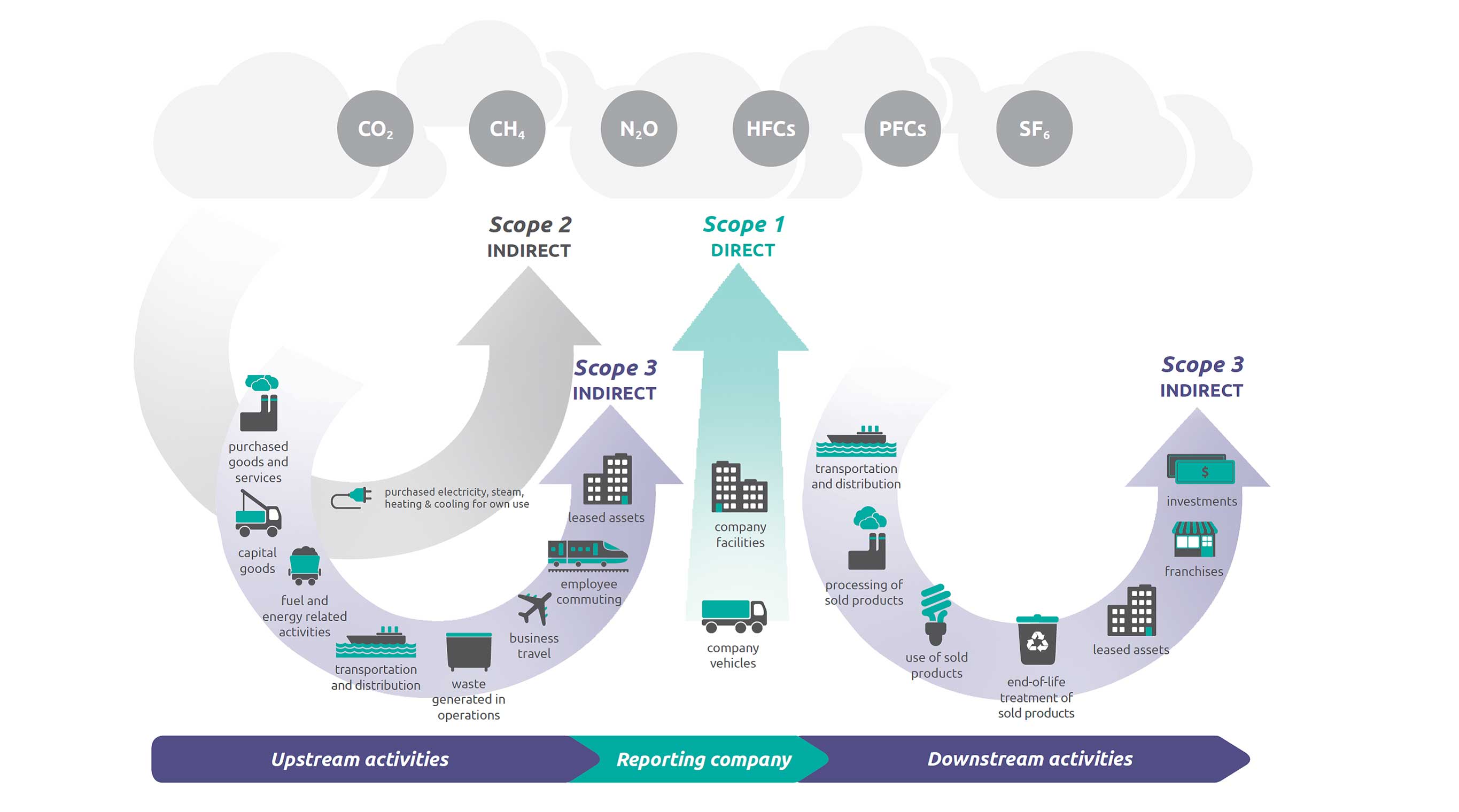 Conclusion
As we approach COP26, let's be clear that mobilising action across the listed company landscape will play a crucial role in closing the ambition gap on emissions reductions to 2030.
If listed companies account for 40% of the climate crisis, the potential for impact through asset management in listed equities must be huge. The true figure – and potential for impact – is likely to be even greater.
Listed companies will need to reach net zero by 2040. Action in the near term creates significant value,17 and many listed companies have the capacity to be early movers. They are well-resourced and effective at managing change in short periods of time. Investors in listed equities and other stakeholders can accelerate progress through active engagement and capital allocation choices.
Listed companies will play a key role in a sustainable and equitable transition to net zero. It's time for investors to prove it.
Key data sources
Assumptions and sensitivities:
GHG emissions of listed companies (GtCO2e)
| | | |
| --- | --- | --- |
| | Low | High |
| Scope 1 | 12.23 | 12.23 |
| Scope 2 | 0.74 | 0.81 |
| Scope 3 - coal | 0.46 | 0.46 |
| Scope 3 - oil | 4.22 | 4.22 |
| Scope 3 - gas | 1.21 | 1.21 |
| Scope 3 - food | 3.12 | 4.14 |
| Total | 22.0 | 23.1 |
| % of total global emissions | 38.3% | 40.2% |
Scope 3 category

Examples of emissions missed

Purchased goods and services

Land use change and production emissions associated with listed food manufacturing companies purchasing inputs from non-listed companies, when these products are not sold by listed retailers

Capital goods

Process emissions e.g. from cement associated with listed companies purchasing capital goods from non-listed suppliers

Fuel and energy related emissions

Fugitive emissions associated with energy purchases by listed companies from non-listed energy producers.

Aviation and marine emissions, where oil was extracted or refined by a listed company and consumed by a privately held or SOE airline or ship owner/freighter.

Upstream transportation and distribution

Emissions associated with upstream freight of products by listed companies where both freight company is not listed and the fuel is produced by a non-listed company.

Waste generated in operations

Emissions associated with waste generated by listed companies that is treated and disposed of by non-listed companies

Business travel

Emissions associated with business travel by listed companies where both the company providing travel services is not listed and the fuel use for transportation is produced by a non-listed company

Upstream leased assets

Energy and process (e.g. cement) emissions associated with use of leased assets by a listed company, if the emissions do not derive from production by listed companies 

Downstream transportation and distribution

Emissions associated with downstream freight of products by listed companies where both the freight company is not listed and the fuel is produced by a non-listed company

Processing of sold products

Emissions associated with products sold by listed companies where downstream processing is undertaken by a non-listed company using energy sources also derived from non-listed companies

Use of sold products

Appliances manufactured by listed companies and used by final consumers or non-listed companies that rely on electricity or other energy sources derived from non-listed energy producer

End of life treatment of sold products

Food waste emissions associated with the food manufactured by listed companies, where that food is not sold by listed retailers

Downstream leased assets

Energy emissions associated with the use of leased assets that are owned by a listed company, if those leased assets are not used by a listed company and the energy emissions derived from energy products produced by non-listed companies

Franchises

Land use and production emissions associated with food sold in franchises of listed companies

Energy emissions associated with franchised operations of listed companies, where energy derives from non-listed companies

Investments / financed emissions

Emissions associated with investments made by listed companies in non-listed companies, where those emissions arise from energy and food production, or other activities, undertaken by non-listed companies
In general, listed companies will need to be net zero by 2040 at the latest. Sectors will however move at different speeds – the power sector, for instance, will need to be net zero well before 2040, while companies in harder-to-abate areas may reach net zero later than 2040.
This 57.4 GtCO2e figure includes land use change, estimated at 5 GtCO2e per year. As well as CO2, it includes methane and other greenhouse gases. See the PBL Netherlands Environmental Assessment Agency website for details.
This contains both disclosed data and modelled estimates by CDP. See the published methodology.
The scope 3 emissions are also only those that are incremental to our estimate of Scope 2 emissions
See the MSCI publication for details (page 8).
CDP data (analysed by Generation) and MSCI's publication given estimates of listed companies at around 20% of global GHG, based on Scope 1. A 2017 analysis by CDP, for its Carbon Majors report, estimates that listed companies are 30% of GHG in 2015. This uses a denominator that is only a subset of global GHG emissions. Applying a denominator consistent with ours, the relevant figure is 17%. An analysis by David Fickling and Elaine He for Bloomberg has a figure of 15%.
Our estimate of listed company GHG is roughly 2x the Scope 1 estimate using either CDP or MSCI data. This is much lower than the 5.5x figure from CDP, due to double counting in GHG statistics (a design feature rather than a flaw). Scope 2 and 3 emissions of companies in CDP's database are often the Scope 1 emissions of another company.
See this Carbon Brief article on the extent of global land use change
Ricciardi et al (2018), 'How much of the world's food do smallholders produce?'. Global Food Security. See paper
Carbon Tracker (2021), 'Flying Blind: Flying blind: The glaring absence of climate risks in financial reporting'. See report
See Climate Trace website
There are 40 thousand listed companies according to the OECD. We are referring here to the MSCI ACWI Investable Market Index (IMI) which captures large, mid and small cap representation across 23 Developed Markets and 27 Emerging Markets countries. This currently has 9,225 constituents, covering approximately 99% of the global equity investment opportunity set, according to MSCI.
Saunois et al (2020), 'The Global Methane Budget 2000–2017'. Earth Syst. Sci. Data. See paper
Methodologies for accounting for agriculture and nature based solutions are still evolving. See this update
See Amazon website
RAN (2021), 'Banking on Climate Chaos'. See report
See Generation's insights piece on the Time Value of Carbon